At Planifico, we believe that ressource management should be an enjoyable activity requiring only a few minutes per week. Many businesses from different industries share this vision and have actively contributed to the developpment of Planifico in order to maximize the efficiency in your industry.
By using Planifico, businesses not only save many hours in management every week, but also find that their work environment is more enjoyable and notice a reduction in the rate of absenteeism and a significiant improvement of employee punctuality. By increasing employee and manager satisfaction, you will reduce your employee turnover and training costs.
Planifico is the perfect tool
if you are managing

Features and Benefits
To save you a maximum amount of time.
0
min/month/employee
Time saved in management
0
min/employee
Initial setup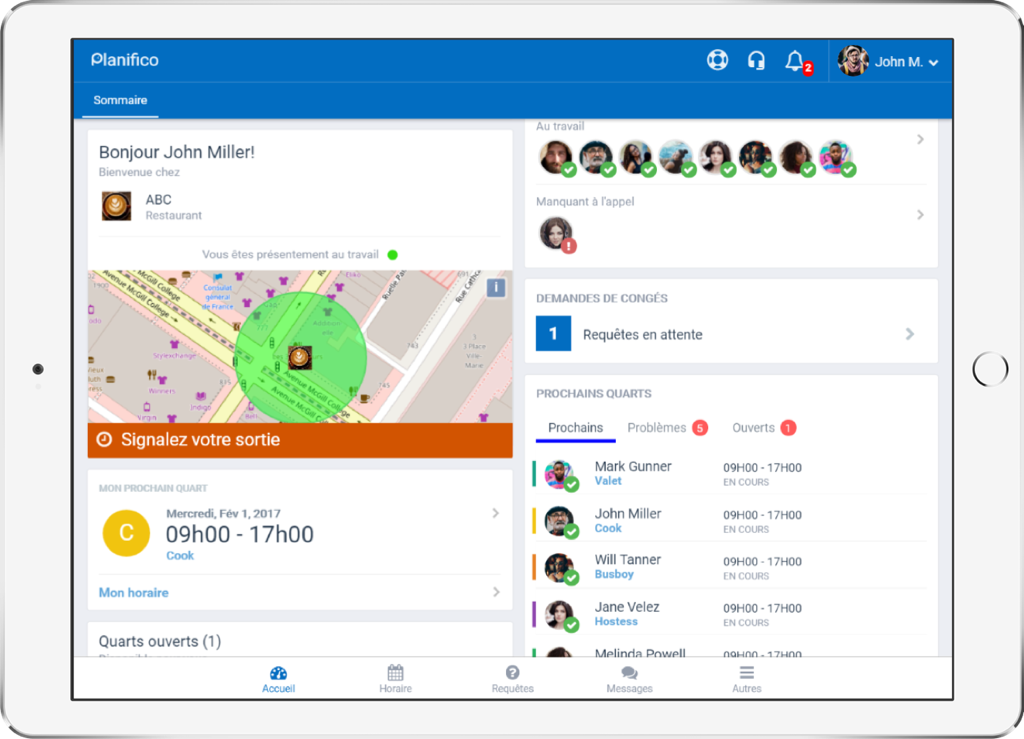 Instant overall view of your business at a glimpse.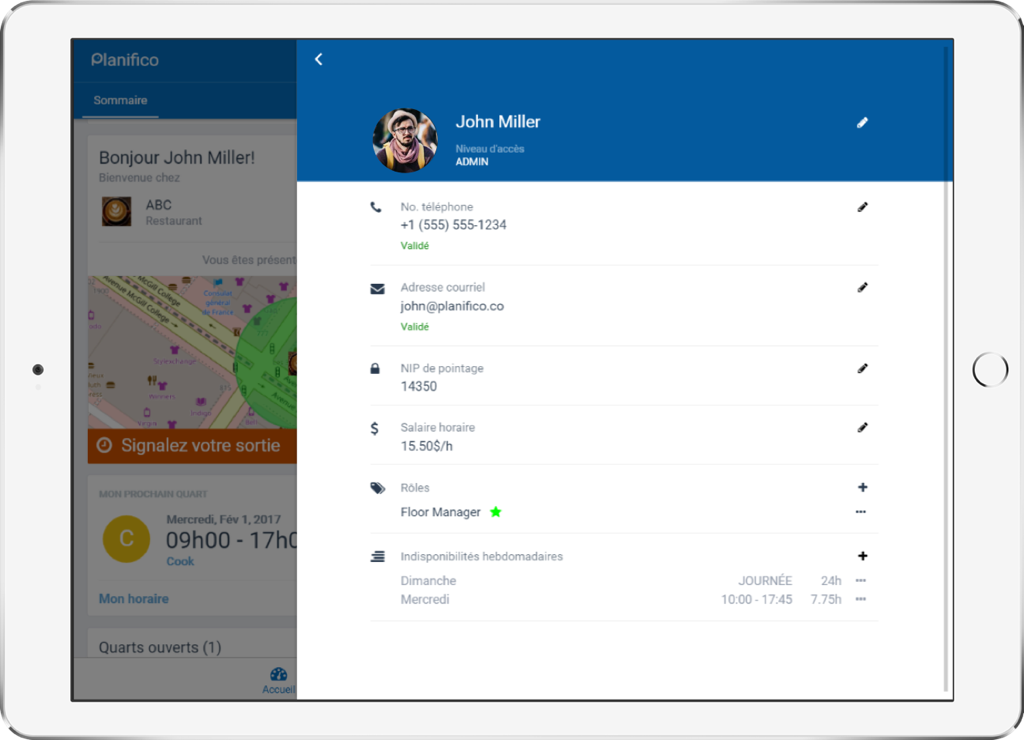 Manage your employees and departments.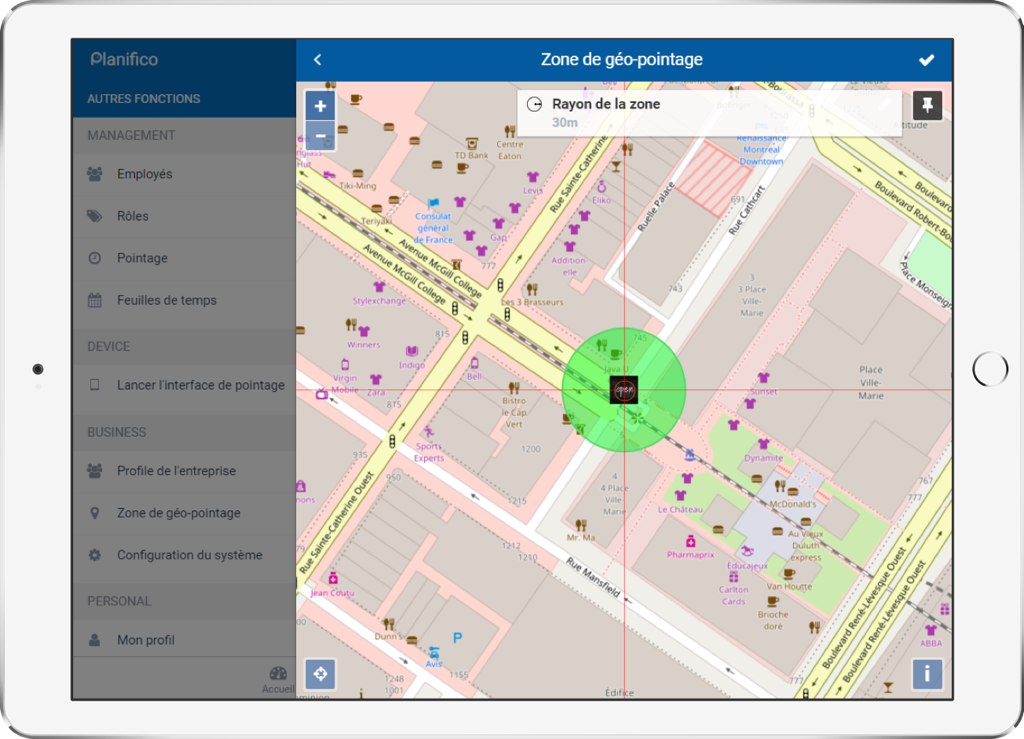 Set geographic fences for the clocking.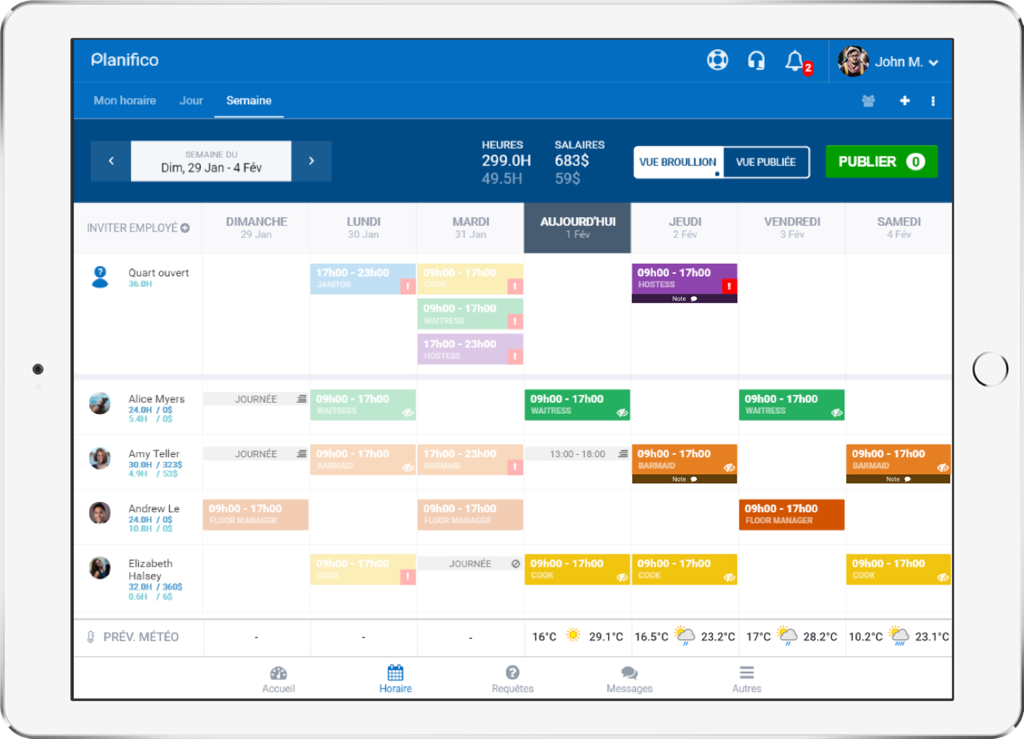 Prepare your schedules in a few clicks,
and visualise your labor costs forecasts.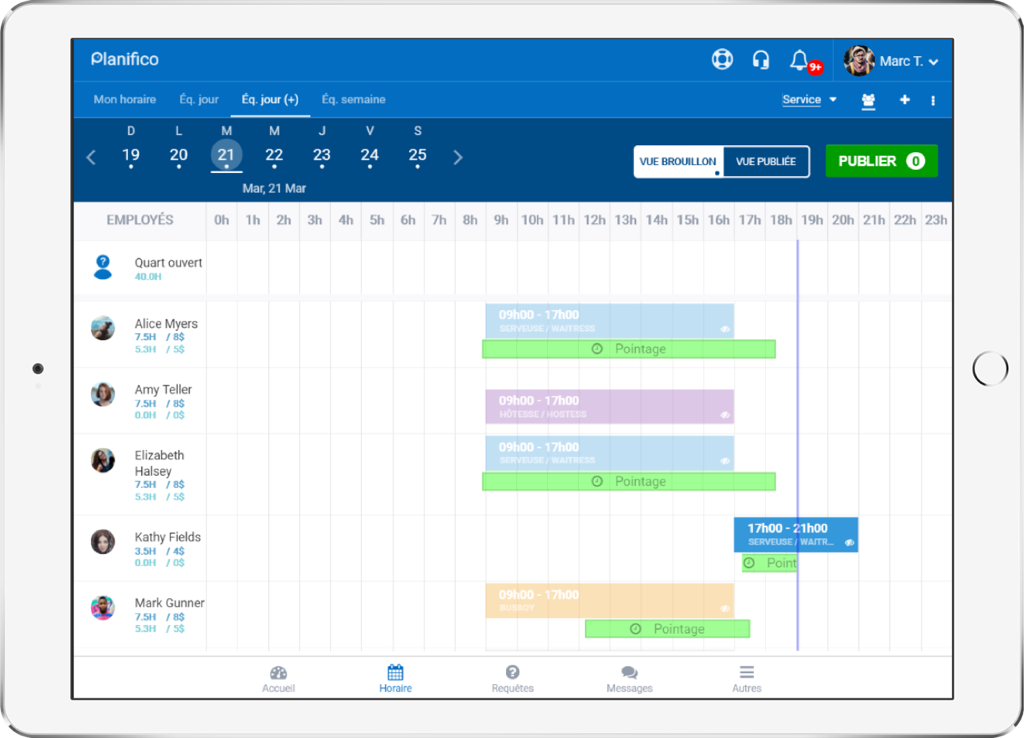 Validate your team clocking in real time as part of the schedule.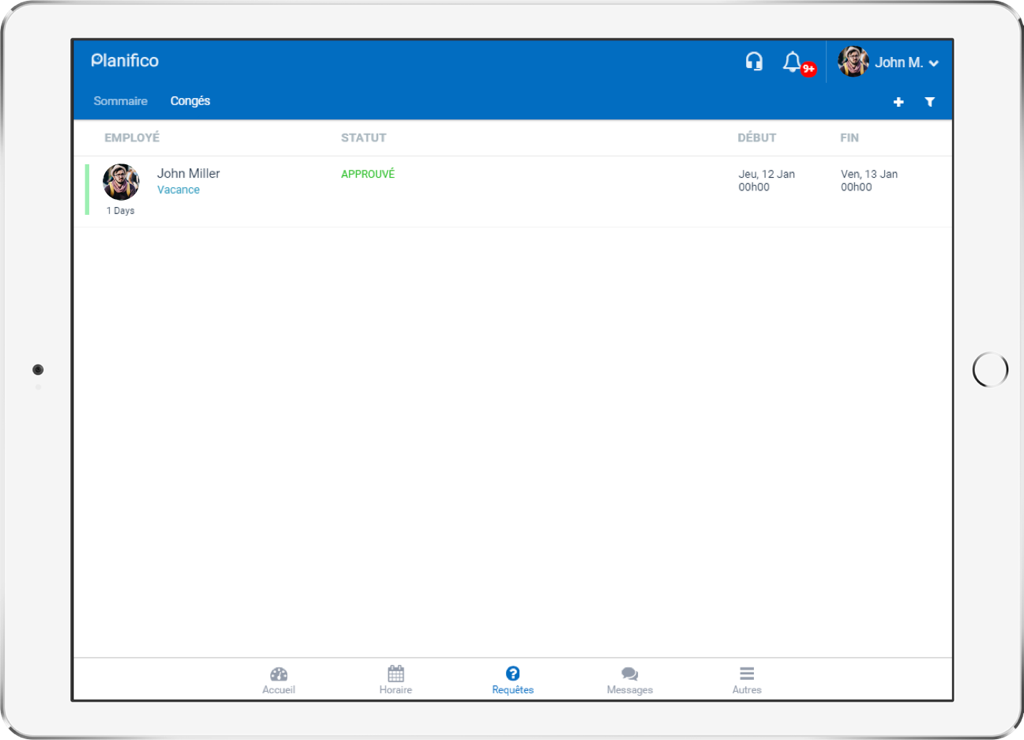 Review time off requests submitted by your employees.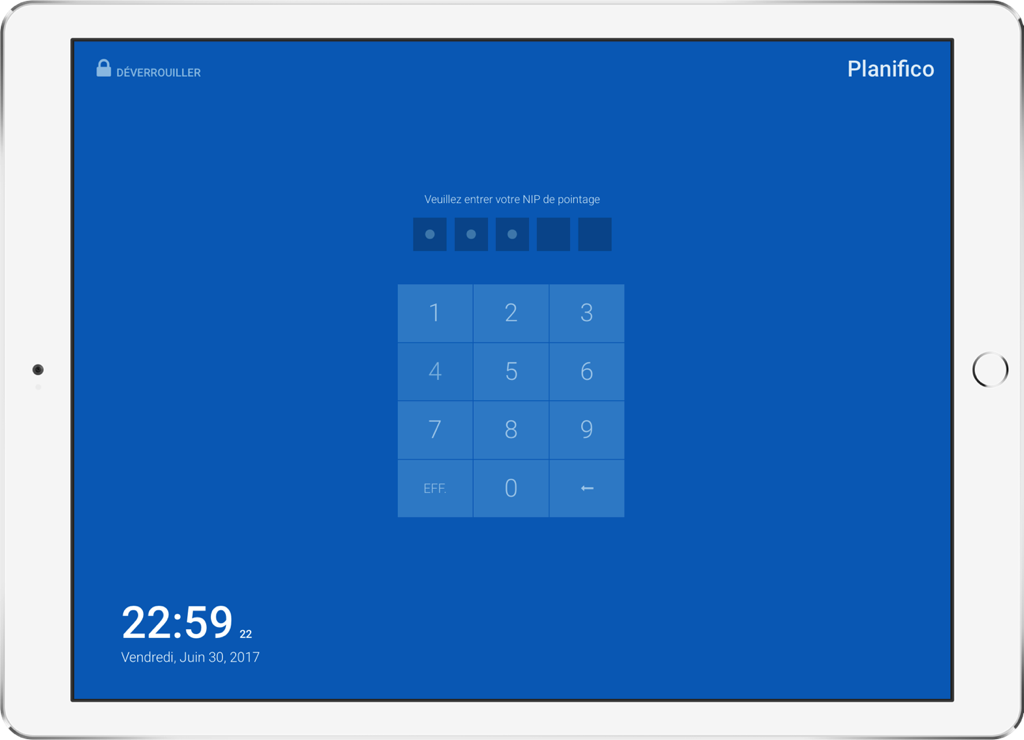 If you wish, you may use your POS computer or a dedicated tablet as a common clocking device.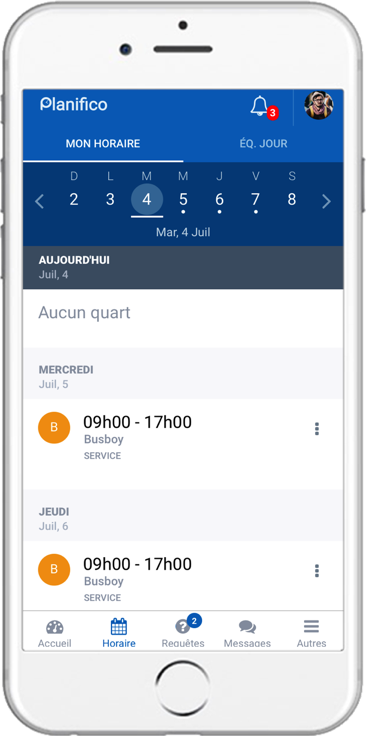 Your employees will always have access to the latest version
of their schedule. No more confusion.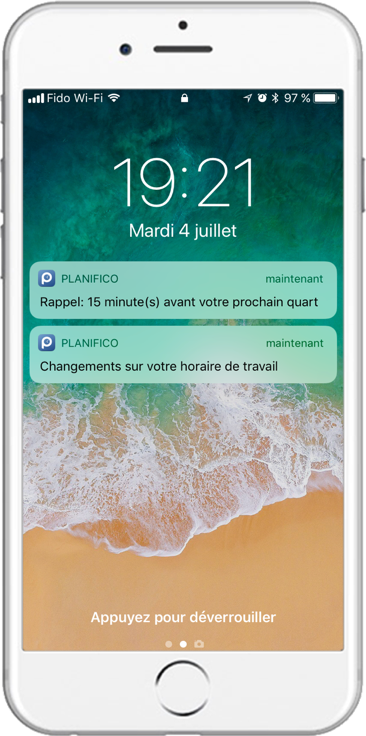 Reduce no shows
thanks to reminders before shifts start.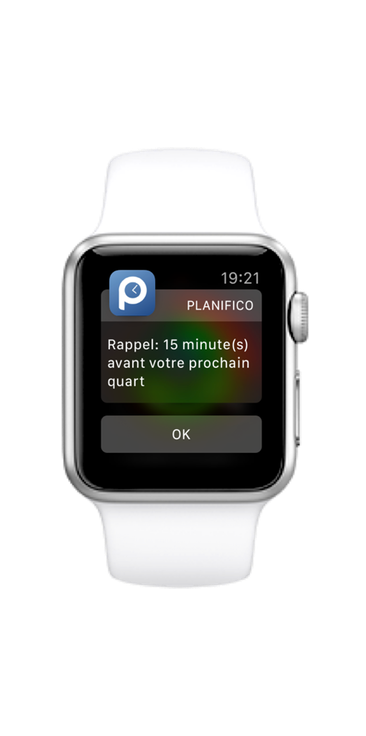 Notifications can also be received on your smart watch.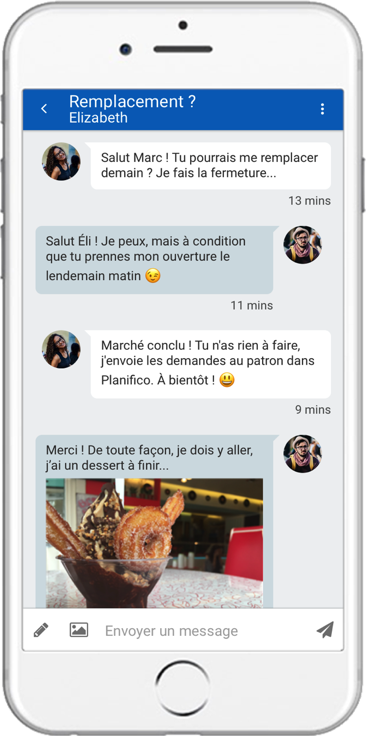 Improve team communication, thanks to the integrated chat for personal or team conversations.
Include images, emojis and graphics for efficient communication.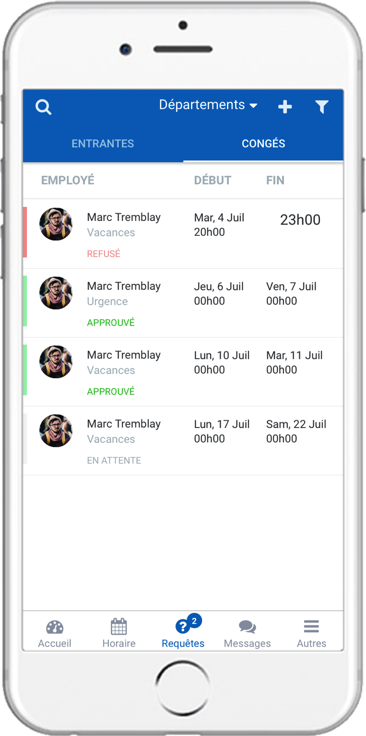 Review requests
for time off, availability changes, remplacements and shift swaps.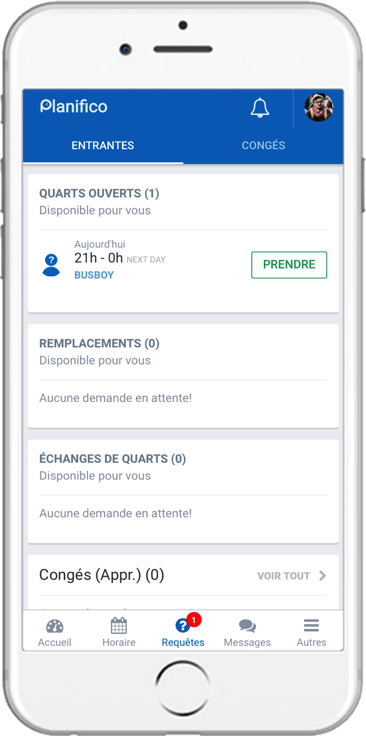 Require an additional employee at the last minute?
Open a shift which will be available to anyone who is available.
Required staff will be notified for you.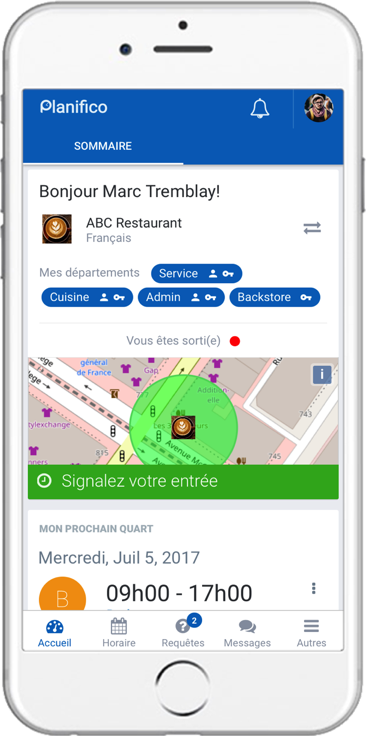 Each employee can clock in and out from their smartphone.
A common clocking device may also be setup easily.
Des histoires à succès.
Qui s'accumulent à chaque déploiement.
Alex Fitzerman
Manager – ABC Restaurants
Depuis que j'ai installé Planifico, mes employés se mettent à genoux pour me supplier pour faire des quarts de travail additionnels!
Nous utilisons Planifico à tous les jours pour développer Planifico. Sans cet outil, nous ne savons pas comment nous pourrions faire progresser notre startup!
Robin Laroche
Gérant – Pharmacico
Je C-A-P-O-T-E sur Planifico. C'est tout ce que j'ai à dire.
Pricing
Tailored to your business to ensure a great return on investment.
Employees

Departements

Clocking

Scheduling

Timesheets

Service

24/7 Support

Free automatic updates

Free 30 day trial

90 day statisfaction guarantee
Employees

Departements

Clocking

Scheduling

Timesheets

Service

24/7 Support

Free automatic updates

Free 30 day trial

90 day statisfaction guarantee
Employees

Departements

Clocking

Scheduling

Timesheets

Service

24/7 Support

Free automatic updates

Free 30 day trial

90 day statisfaction guarantee
Employees

Departements

Clocking

Scheduling

Timesheets

Service

24/7 Support

Free automatic updates

Free 30 day trial

90 day statisfaction guarantee